Noise Komunikasi dalam Penanganan WABAH COVID-19 (Studi Deskriptif-Kualitatif Penanganan Covid-19 di NTB)
Abstract
Muhammad Jamiluddin Nur[1], Pundra Rengga Andhita[2], Baiq Vira Safitri[3]
ABSTRACT
This study aims to describe the communication noise that occurs in the process of handling the Covid-19 outbreak in NTB. This research is important to be carried out to provide insight of communication science. In addition, this research can also be a government reference in composing effective communication in handling current and future outbreaks, especially related to communication noise. The method used in this research is descriptive-qualitative. Thus, the data presented is qualitative data. Quantitative data is only used by researchers to strengthen argumentation. Data sources in this research are various mass media, books, research reports that are relevant to this research topic. The researcher presents this research by describing the cases then analyzing the case with the relevant concepts and references. After that, researchers draw conclusions based on the results of the analysis based on observations and searches of various sources. This study found that there was communication noise in the Covid-19 handling process in NTB. The noise is physical, technical, semantic, and psychological noise. Physical noise affects people with disabilities because they receive less attention. Technical noise affected the process of aid distribution and outreach of the Covid-19 outbreak. Semantic noise causes the public insight into the concepts used by the government. Psychological noise makes people not follow the government's appeal.
Keyword: Noise, Communication, Covid-19
[1] Universitas Mataram, Mataram, Indonesia, jamilnur@unram.ac.id
[2] Universitas Muhammadiyah Surakarta, Surakarta, Indonesia, pra702@ums.ac.id
[3] Universitas Mataram, Mataram, Indonesia, b.vira.safitri@gmail.com
Keywords
noise, communication, Covid-19
References
Daftar Pustaka
Mulyana, Deddy (2013). Metode Penelitian Komunikasi: Contoh-contoh Penelitian Kualitatif dengan Pendekatan Praktis. Bandung: Remaja Rosdakarya
Sedarmayanti, & Hidayat, S. (2011). Metodologi Penelitian. Bandung: Mandar Maju
Schramm, W., & Roberts, D. F. (Eds.). (1971). The Process and Effects of Mass Communication (Rev. ed.). Urbana, IL: University of Illinois Press.
Verhaar (2010). Asas-asas Linguistik Umum. Yogyakarta: Gadjah Mada University Press
West, R., & Turner, L. H. (2008). Pengantar Teori Komunikasi: Analisis dan Aplikasi. Jakarta: Salemba Humanika.
Laporan Penelitian
APJII. (2019). Pengguna Internet di Indonesia 2018 Bertambah 28 Juta & nbsp ; 1. https://databoks.katadata.co.id/datapublish
Bappeda Prov. NTB. (2015). Nusa Tenggara Barat Dalam Data Nusa.
E.T, W. (2017). Statistik Pendidikan Provinsi Nusa Tenggara Barat 2017. September 2016, 1–26.
Indonesia, R. (2020). Empat Pilar Komunikasi Publik Terkait Covid-19. 1.
Media Online
Lombokpost.jawapost.com (2020, 1 Mei). Abaikan Larangan Berkumpul, Warga Bengkel Berkerumun Minta Shalat Jumat Tetap Digelar. Diakses 30 Juni 2020, dari https://lombokpost.jawapos.com/giri-menang/01/05/2020/abaikan-larangan-berkumpul-warga-bengkel-berkerumun-minta-salat-jumat-tetap-digelar/
Detik.com. (2020, 23 Maret). Posting Broadcast Hoax Soal Positif Corona, Warga NTB ini Ditangkap. Diakses 30 Juni 2020, dari https://news.detik.com/berita/d-4949742/posting-broadcast-hoax-soal-positif-corona-warga-ntb-ini-ditangkap
Lombokpost.jawapost.com.(2020, 1 April). Antisipasi Korona, Sejumlah Lingkungan di Mataram Mulai "Lockdown Gubok". Diakses 30 Juni 2020, dari
https://lombokpost.jawapos.com/ntb/01/04/2020/antisipasi-korona-sejumlah-lingkungan-di-mataram-mulai-lockdown-gubok/
Radarlombok.co.id. (2020, 8 Mei). Satgas NU NTB Peduli Bantu Disabilitas Terdampak Covid-19. Diakses 30 Juni 2020, dari https://radarlombok.co.id/satgas-nu-ntb-peduli-bantu-disabilitas-terdampak-covid-19.html
Antaranews.com. (2020, 12 Juni). KPPPA: Anak Penyandang Disabilitas Rentan Terpapar Covid-19. Diakses 30 Juni dari https://www.antaranews.com/berita/1549540/kpppa-anak-penyandang-disabilitas-rentan-terpapar-covid-19
Globalfmlombok.com (2018, 9 Mei). Penyandang Disabilitas di NTB 17 Ribu Orang, Rata-Rata Masuk Kategori Miskin. Diakses 30 Juni 2020 dari https://globalfmlombok.com/read/2018/05/09/penyandang-disabilitas-di-ntb-17-ribu-orang-rata-rata-masuk-kategori-miskin.html
Koranntb.com. (2020, 23 April). Data Penerima JPS Gemilang Bermasalah, Dinsos NTB Dinilai Tak Becus. Diakses 3 Juli 2020, dari https://koranntb.com/2020/04/23/data-penerima-jps-gemilang-bermasalah-dinsos-ntb-dinilai-tak-becus/
DOI:
https://doi.org/10.29303/jcommsci.v1i1.85
Refbacks
There are currently no refbacks.
Copyright of Journal of Media and Communication Science

This work is licensed under a Creative Commons Attribution-NonCommercial 4.0 International License.
JCommsci accredited by :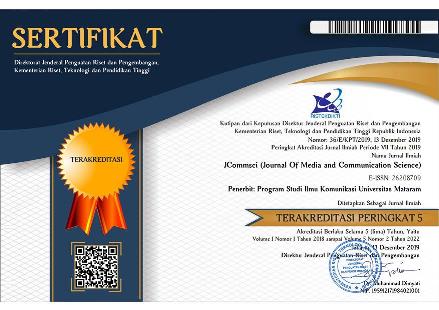 JCommsci Indexed by :