Memperkokoh Corporate Culture Melalui Mindset dan Family Value
Keywords:
Mindset, Leadership, Family Values, Organizational Culture
Abstract
Some of the most successful companies in Indonesia come from Family Companies that can reach 3 generations. The organizational culture in the family company is largely determined by the mindset of the family company actors. Besides, many family companies cannot articulate their core values (Family Values) into values that can be applied to business, which must be exemplified by company Leaders. This study aims to examine the concepts of Mindset, Family Value, and Leadership in Organizational Culture. The object of this study is a family company which is engaged in building materials business. The population in this study was all employees at building material companies in Surabaya, with a sample of 30 building material company owners as respondents. The analysis technique used in this study is Partial Least Square (PLS). Based on the study results, it shows that (1) mindset has a significant effect on the organizational culture of the building material family company. (2) Leadership has a significant effect on the organizational culture of the building material family company. (3) Family values have a significant effect on the organizational culture of the building material family company in Surabaya.
References
Adi W. Gunawan, The Secret of Mindset, (Jakarta: Gramedia Pustaka Utama, 2007) hlm. 14
Anoraga, P. 2005. Psikologi Kerja. Jakarta: Rineka Cipta. Anoraga, Pandji dan Sri Suyati. 1995. Perilaku Keorganisasian. Jakarta: PT. Dunia Pustaka Jaya.
Bangun, W. (2012). Manajemen Sumber Daya Manusia. Jakarta: Erlangga.
Cruz, A. D., Hamilton, E., & Jack, S. L. (2012). Understanding entrepreneurial cultures in family businesses: a study of family entrepreneurial teams in Honduras. Journal of Family Business Strategy, 3, 147-161. https://doi.org/10.1016/j.jfbs.2012.05.002
Dumas, C., & Blodgett, M. (1999). Articulating values to inform decision making: lessons from family firms around the world. International Journal of Value-Based Management, 12(3), 209-221. https://doi.org/10.1023/A:1007764112498
Fahrudin, A. (2012). Keberadaan fungsi keluarga: konsep dan indikator pengukuran dalam penelitian. Jurnal Informasi, 17(2), 75-81.
Hasibuan, Malayu SP, 2009, Manajemen Sumber Daya Manusia, Dasar dan Kunci Keberhasilan, Cetakan Keenam, CV. Haji Masagung, Jakarta.
Koiranen, M. (2002). Over 100 years of age but still entrepreneurially active in business: exploring the values and family characteristics of old finnish family firms. Family Business Review, 15(3), 175-188. https://doi.org/10.1111/j.1741-6248.2002.00175.x
Lussier N Robert (2010), Human Relation in Organization Applications and Skill Building. New York: Mc. Graw Hill
Maxwell, J. C. (2012). The Five Levels of Leadership. Surabaya: PT Menuju Insan Cemerlang.
Murwani, A. (2007). Asuhan Keperawatan Keluarga: Konsep dan Aplikasi Kasus. Yogyakarta: Mitra Cendikia Press.
Panjwani A, and Anggarval V,2008. Family business: Yesterday, today, tomorrow, January 2008, Indian journal of industrial relations 44(2):272-291
Purwanto, D. (2013). Perusahaan keluarga haram lakukan affair dengan penguasa. Diakses 23 Agustus, 2016, dari http://bisniskeuangan.kompas.com/ read/ 2013/02/18/14573668/Perusahaan.Keluarga.Haram.Lakukan.Affair.dengan.Penguasa.
Robbins, Stephen. 2008, Organization Behaviour, Tenth Edition ( Perilaku Organisasi Edisi ke Sepuluh), Alih Bahasa Drs. Benyamin Molan. Jakarta: Salemba Empat
Rivai, V., & Mulyadi, D. (2012). Kepemimpinan dan Perilaku Organisasi (3 ed.). Jakarta: Rajawali Pers.
Samboh, E. (2011). RI Businesses Dominated by Families. Diakses 22 Agustus, 2016, dari http://www.thejakartapost.com/news/2011/11/01/ri-businesses-dominated-byfamilies.html.
Stogdill, 1974, Handbook of Leadership: A Survey of Theory and research. New York Free Press dalam Kartini Kartono, 1994. Psikologi Sosial untuk Manajemen, Persahaan dan Industri. Jakarta: Rajawali Press.
Wibowo. (2010). Budaya Organisasi: Sebuah Kebutuhan untuk Meningkatkan Kinerja Jangka Panjang (1 ed.). Jakarta: Rajawali Pers.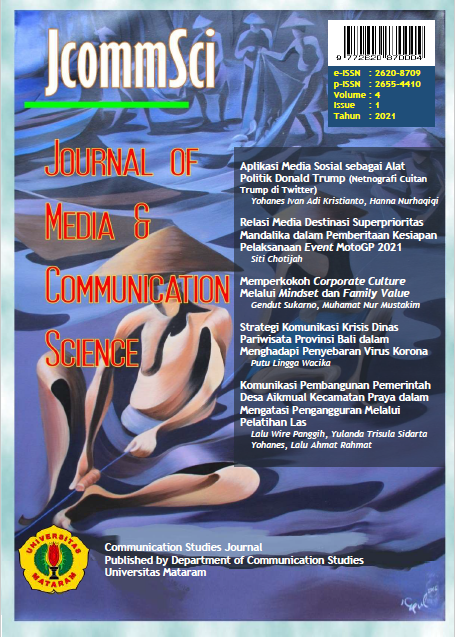 Downloads