Pragmatisme Partai Nasional Demokrat dalam Sistem Pemilu Terbuka
Keywords:
Partai Nasdem, pragmatisme, selebritis, sistem Pemilu, demokrasi
Abstract
The National Democratic Party's strategy in facing the 2019 Election with an open proportional representation system is to recruit celebrities as voters. Their placement as candidates for state administrators risks injuring the substance and objectives of democracy, because candidates for state administrators must have certain ideologies and competencies as well as the replacement of ideological cadres by celebrities. This qualitative research uses the literature study method for data collection. The purpose of this study is to find out the pragmatism of the national democratic party in an open proportional electoral system. From the results obtained, political parties tend to leave ideological cadres rather than representing members and the wider community. The Nasdem Party finally saw that celebrities are part of professional actors who have the ability as celebrity politicians although in practice they play more roles as celebrity endorsers. Placement of celebrities as candidates for state administrators is a necessity for sales-oriented parties. However, it is necessary to consider the risks to the aims and substance of democracy.
References
Alsamydai, M. J., & Khasawneh, M. H. (2013). Basic Criteria for the Success of the Electoral Candidates and their Influence on Voters' Selection Decision. Advances in Management & Applied Economics, 3, 105–127.
Belt, T. L. (2011). How Celebrities Become Political During Times of Threat. 9th Annual American Political Science Association, Pre-Conference on Political Communication.
Darmawan, I. (2015). Keterlibatan Selebriti Dalam Pemilu Indonesia Pasca Orde Baru. Sosiohumaniora, 18, 236–242.
Davis, A. (2019). Political Communication: A New Introduction for Crisis Times. Polity Press.
Dugaswara, A. (2019, December 3). Sistem Pemilu Dan Pragmatisme Partai Politik. Https://Kota-Sukabumi.Kpu.Go.Id/Sistem-Pemilu-Dan-Pragmatisme-Partai-Politik/.
Emzir. (2010). Metodologi Penelitian Kualitatif Analisis Data. PT Rajagrafindo Persada.
Fadhli, M. R. (2016). Strategi Kemenangan artis dalam Pemilu Legislatif 2014. Prodi Ilmu Politik, FISIP UIN Syarif Hidayatullah.
Firmanzah. (2017). Mengelola Partai Politik: Komunikasi dan Positioning Ideologi Politik di Era Demokrasi. Yayasan Obor Indonesia.
Garnesia, I. (2019, July 17). "Benarkah Caleg Selebritas Bantu Nasdem Dongkrak Suara Pileg?" Https://Tirto.Id/Benarkah-Caleg-Selebritas-Bantu-Nasdem-Dongkrak-Suara-Pileg-Eegb.
Imawan, R. (2004). Pidato Pengukuhan Jabatan Guru Besar dalam Ilmu Politik pada Fakultas Ilmu Sosial dan Ilmu Politik Universitas Gadjah Mada. Partai Politik Di Indonesia: Pergulatan Setengah Hati Mencari Jati Diri.
Jati, W. R. (2014). Politik Selebritas Elaborasi Teoritik Terhadap Model Kampanye Baru. Jurnal Kawistara, 4, 183.
Kenawas, Y. C., & Fitriani. (2013, May 31). Indonesia's next parliament: celebrities, incumbents and dynastic members? Https://Www.Eastasiaforum.Org/2013/05/31/Indonesias-next-Parliament-Celebrities-Incumbents-and-Dynastic-Members/.
Magleby, D. (2011). Financing the 2008 Election. The Brookins Institute.
Menocal, A. R. (n.d.). Why electoral systems matter: an analysis of their incentives and effects on key areas of governance.
Muhtadi, B. (2013). Perang Bintang 2014: Konstelasi dan Prediksi Pemilu dan Pilpres. Mizan.
Nazir, M. (2013). Metode Penelitian. Penerbit Ghalia Indonesia.
Perdana, I. H. (2012). "Political Marketing Partai Politik baru menuju Pemilu 2014. Studi kasus; Strategi Pemenangan Partai NasDem.
Rahayu, U. (2019, April 29). Nasdem Meraupu Berkah dari Para Artis. Https://Kumparan.Com/@kumparannews/Nasdem-Meraup-Berkah-Para-Artis-1qyzGmIYfwF.
Ramdani, M. D., & Arisandi, F. (2014). Pengaruh Penggunaan Sistem Pemilihan Umum Dewan Perwakilan Rakyat Proporsional Daftar Terbuka. Jurnal RechtsVinding, 3.
Romli, L. (2011). Reformasi Partai Politik dan Sistem Kepartaian di Indonesia. Jurnal Politica, 2.
Street, J. (2012). Do Celebrity Politics and Celebrity Politicians Matter? British Journal of Politic, 14, 346–356.
Swanson, D., & Mancini, P. (1996). Politics, Media and Modern, Democracy: An International Study of Innovation in Electoral Campaigning and Their Consequences. Praeger Press.
Wicaksono, M. A., & Aziz, Muh. S. (2020). Selebritas dalam Pemilu 2019. Journal of Southeast Asian Communication, 1(1).
Yudistira. (2015). Pelembagaan Partai Nasdem. Jurnal Mahasiswa Ilmu Pemerintahan Universitas Brawijaya, 1.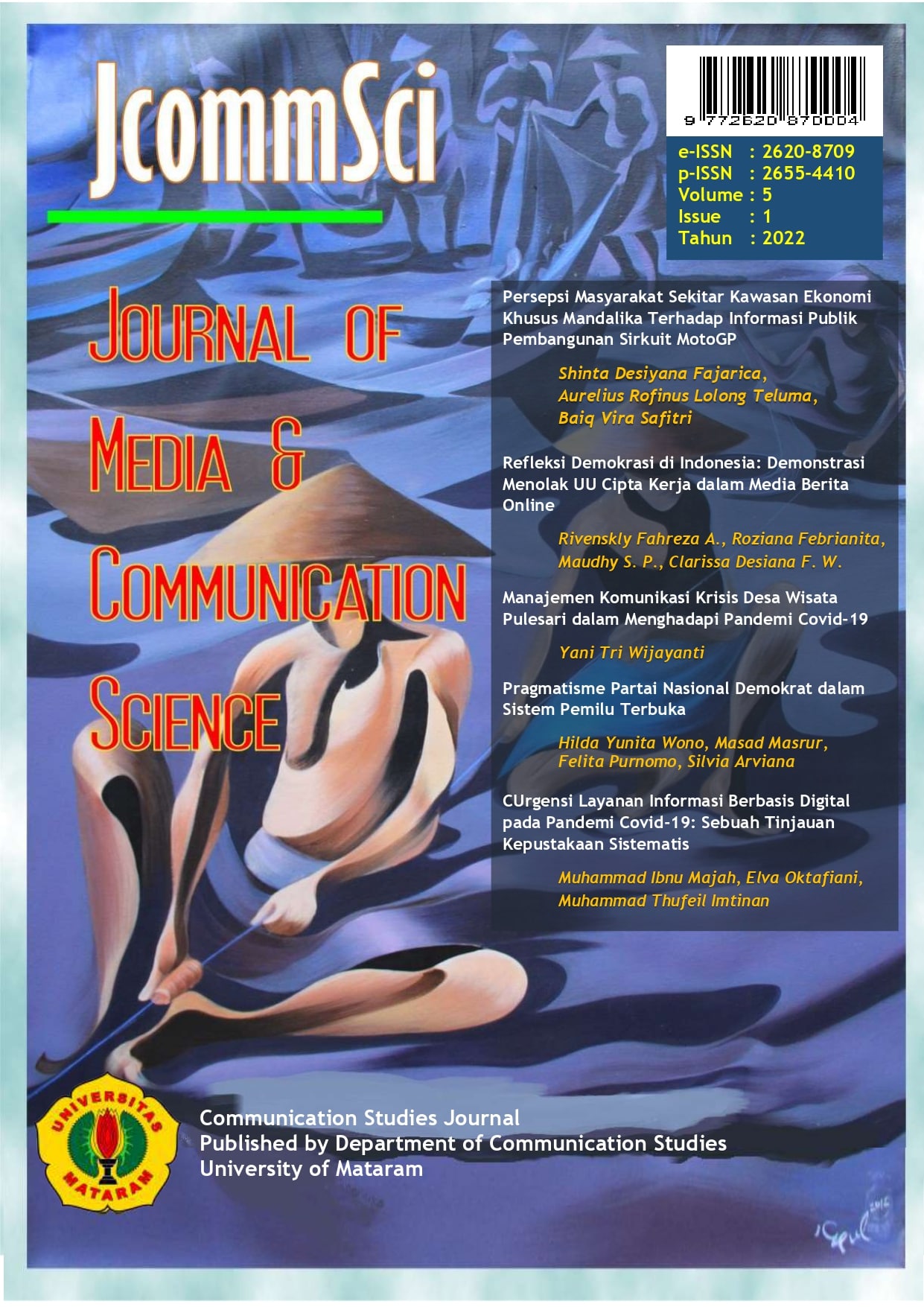 Downloads
License
Copyright (c) 2022 JCommsci - Journal Of Media and Communication Science
This work is licensed under a Creative Commons Attribution 4.0 International License.