Persepsi Masyarakat Sekitar Kawasan Ekonomi Khusus Mandalika Terhadap Informasi Publik Pembangunan Sirkuit MotoGP
Abstract
Mandalika Special Economic Zone (SEZ) on the island of Lombok was developed in 2014. One of its mega-projects is the construction of the International MotoGP Circuit, which has started to be used in November 2021. Ideally, residents around the SEZ will be the people who will benefit the most from the presence of this particular area. This goal can be reached if public information from the government regarding the project can be known and trusted by residents to increase their active participation in the future. This research was conducted in September 2020 to measure the perception of the quality of public information about the construction of the MotoGP circuit, which includes sources of information, the credibility of information, and readiness to participate in the development of the new economic and tourism center. The results showed that the primary sources of information for the community around the Mandalika SEZ area, namely four villages in the Pujut sub-district, were local community/religious leaders at 30%, social media (23%), mass media at 15%, local government 15%, and others (stories from neighbors, and 'do not know) as much as 13% and schools/campus (5%). On the information credibility, almost all respondents (82%) trust the information provided by the local government regarding the development of the Mandalika SEZ and the MotoGP circuit. Around 14% still feel doubtful, and 4% of respondents do not believe it. On the aspect of readiness to participate, half of the respondents expressed doubts (52%) that they could take a role and benefit from the presence and progress of the development of the Mandalika SEZ, especially the MotoGP circuit. As many as 18% said they were not sure. Meanwhile, those who feel confident are 22%, and 8% are very sure. The minimal role of the local government as a source of development public information has implications for the attitude of unpreparedness to participate by residents around the Mandalika SEZ.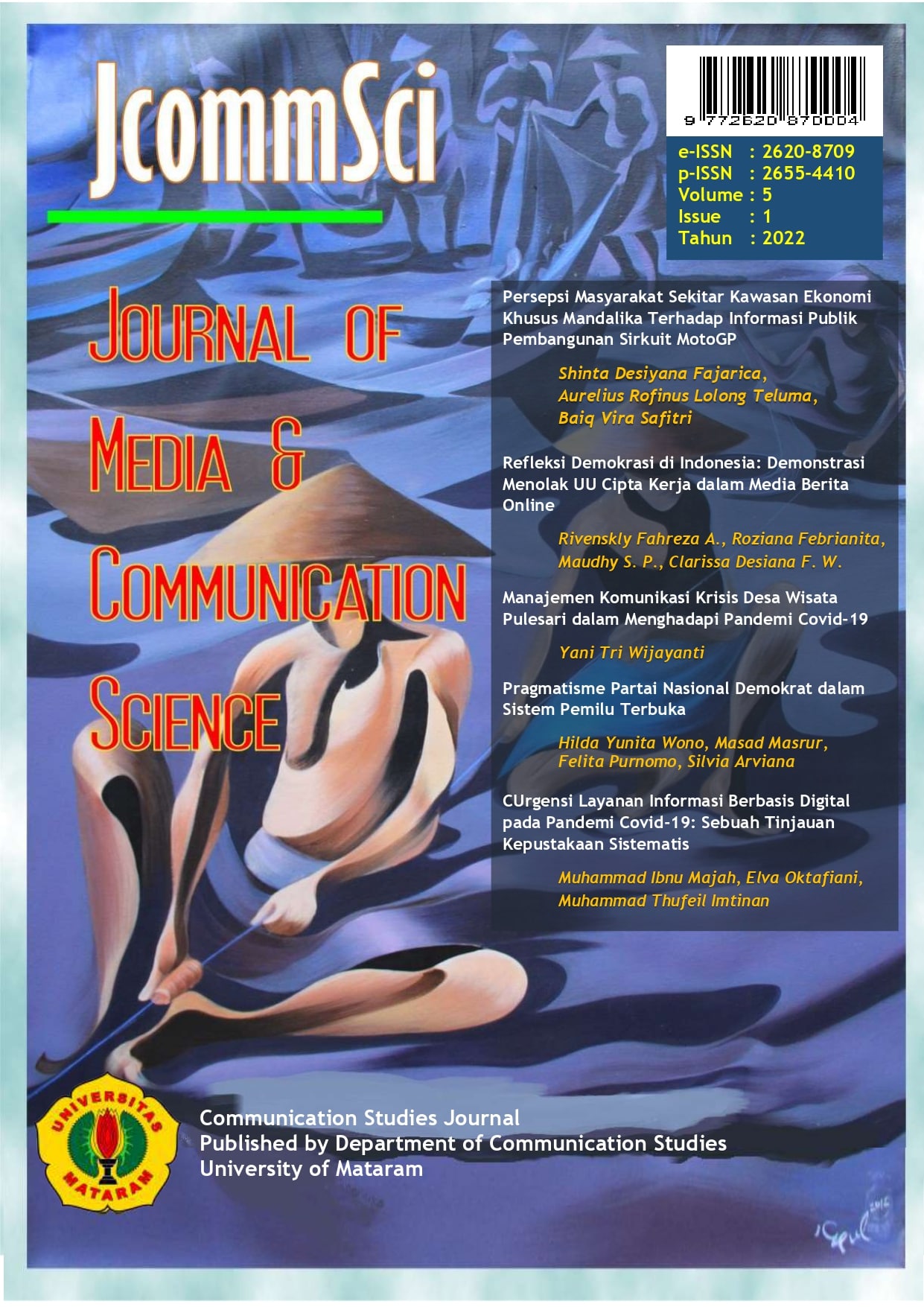 Downloads
License
Copyright (c) 2022 JCommsci - Journal Of Media and Communication Science
This work is licensed under a Creative Commons Attribution 4.0 International License.