ANALISIS WACANA PELANGGARAN SIARAN LOMBOK TV DITINJAU DARI UNDANG-UNDANG NOMOR 32 TAHUN 2002 TENTANG PENYIARAN (Studi kasus di Komisi Penyiaran Indonesia Daerah Provinsi Nusa Tenggara Barat)
Abstract
The phenomenon of violations seen on the glass screen is very diverse ranging from video clips of Sasak songs that show certain body parts, and erotic swaying to news broadcasts that do not blur the faces of perpetrators of crimes and the appearance of one of the product logos in its broadcast program . The violation was analyzed by researchers in accordance with discourse analysis such as text, social statements and the context that developed in the community.
To find out the correct broadcast content in violations of Lombok TV broadcasts based on Law Number 32 of 2002 concerning Broadcasting. At the Regional Indonesian Broadcasting Commission of the Nusa Tenggara Province. This study uses a purposive sampling technique with certain criteria and considerations from the research objectives. Data collection was carried out by in-depth interviews with three people from the NTB KPID and one Lombok television person.
The conclusions and results of this study indicate that Lombok TV has not fully complied with the mandate of Law No. 32 of 2002 concerning Broadcasting and also the Broadcasting Behavior Guidelines and Broadcast Program Standards that have been set by NTB KPID as guidelines for broadcasting. There are still violations in Lombok TV broadcasts as evidence of this, internal censorship must be increased and continued so that violations do not recur.
References
Dedi Mulyana, 2006, Metode Penelitian Kualitatif, Rosda Karya.
Drs. Jalaludin Rahmat, M.Sc, Metode Penelitian Komunikasi, Rosda Karya
H.L. Fathurrahman, 2018, Pengantar Metode Penelitian Ilmu Sosial/Ilmu Komunikasi, Mataram, Arga Puji Press
Komisi Penyiaran Indonesia Daerah Provinsi Nusa Tenggara Barat, 2014, Potret Penyiaran NTB
Komisi Penyiaran Indonesia Daerah Provinsi Nusa Tenggara Barat, 2014,
P3/SPS
Kriyantono, Rahmat, 2008, Teknik Praktis Riset Komunikasi, Kencana Prenada Media Group.
Sugiyono, 2008, Metode Peneitian Kualitatif dan R&D, Bandung Alfabeta,
Undang-Undang Nomor 32 tahun 2002 tentang Penyiaran.
DOI:
https://doi.org/10.29303/jcommsci.v1i2.20
Refbacks
There are currently no refbacks.
Copyright of Journal of Media and Communication Science

This work is licensed under a Creative Commons Attribution-NonCommercial 4.0 International License.
JCommsci accredited by :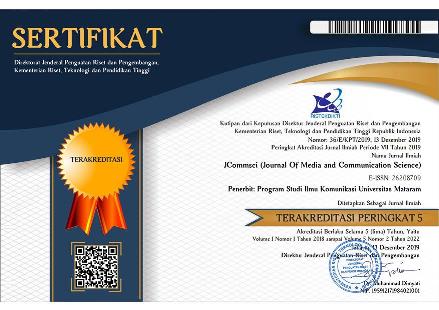 JCommsci Indexed by :