The Effect of InfoBMKG Application Using Toward Disaster Responsiveness Attitude of Mataram University Students Post Lombok Earthquake
Abstract
This research was carried out after the Lombok earthquake that occurred repeatedly in July and August 2018. In such situations, people need quick and practical information about the earthquake. One of the ways to get practical and fairly accurate information is using the InfoBMKG application. The application is expected to be able to make people more alert and careful about disasters. This study aims to see the effect of using the BMKG Info application on community disaster response attitudes. The object of this research is Universitas Mataram Students. This study uses a quantitative descriptive method on 100 respondents who use the Info BMKG application. Data analysis was done by categorizing data into high, medium, and low, then correlation test to see the relationship, and regression test to see the effect of the variable use of BMKG Info application on disaster response attitude variables. The results of study indicate that there is a strong relationship between the use of the InfoBMKG application and the responsiveness of Universitas Mataram students, and 15.7% of disaster readiness attitudes of Universitas Mataram students are affected by the use of the InfoBMKG application.
Keywords: Lombok earthquake;  Info BMKG Application; disaster readiness attitudes 
References
Ali M. (2018). BMKG: Gelombang Tsunami Akibat Gempa 7 SR Lombok Maksimal 50 Cm. news/read/3610473/bmkg-gelombang-tsunami-akibat-gempa-7-sr-lombok-maksimal50-cm. [Diakses pada 24 Februari 2019].
Azwar S. (2016). Sikap Manusia, Teori dan Pengukurannya. Edisi ke-2, Cetakan ke-XXI. Pustaka pelajar. Yogyakarta.
BMKG. (2018). Tugas dan Fungsi. https://www.bmkg.go.id/profil/?p=tugas-fungsi. [Diakses pada 13 November 2018].
______.(2018). Layanan Jaringan Komunikasi. https://www.bmkg.go.id/jaringankomunikasi/?p=layanan. [Diakses pada 13 November 2018].
Harun R., Ardianto E. (2017). Komunikasi Pembangunan dan Perubahan Sosial. Cetakan ke-3, Juni 2017. PT RajaGrafindo Persada. Depok.
Junaidi. (2015). Memahami Skala-skala Pengukuran. https://www.researchgate.net/publication/277340990_Memahami_SkalaSkala_Pengukuran. [Diakses pada 15 November 2018].
Karman. (2013). Riset Penggunaan Media dan Perkembangannya Kini. Vol. 17 No. 1. https://jurnal.kominfo.go.id/index.php/jskm/article/view/170106/119. [Diakses pada 13 November 2018].
Nurudin. (2007). Pengantar Komunikasi Massa. Cetakan ke-6. PT RajaGrafindo Persada. Jakarta.
Ramli S. (2010). Pedoman Praktis Manajemen Bencana (Disaster Management). Dian Rakyat. Jakarta.
Sarwono J., Salim H.N. (2017). Prosedur-prosedur Popular Statistik untuk Analisis Data Riset Skripsi. Penerbit Gava Media. Yogyakarta.
Sugiyono. (2017). Metode Penelitian Kuantitatif, Kualitatif, dan R&D. Cetakan ke-25. Alfabeta. Bandung.
________. (2017). Statisika untuk Penelitian. Cetakan ke-28. Alfabeta. Bandung.
Vera N. (2016). Komunikasi Massa. Penerbit Ghalia Indonesia. Bogor.
Wardani, T.L. (2018). Tanggap darurat. https://www.academia.edu/34486127/TANGGAP_DARURAT. [Diakses pada 10 Desember 2018].
Zulfakriza. (2018). Gempa Bumi, Mungkinkah Diprediksi?. https://sains.kompas.com/read/2018/02/02/182603623/gempa-bumi-mungkinkahdiprediksi. [Diakses pada 13 Desember 2018].
DOI:
https://doi.org/10.29303/jcommsci.v2i1.27
Refbacks
There are currently no refbacks.
Copyright of Journal of Media and Communication Science

This work is licensed under a Creative Commons Attribution-NonCommercial 4.0 International License.
JCommsci accredited by :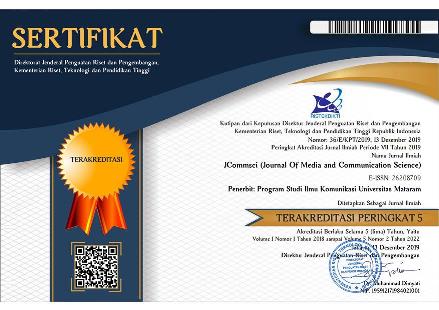 JCommsci Indexed by :