Interpersonal Communication of Bima Students in Lawata Area, Mataram City, Nusa Tenggara Barat (NTB)
Abstract
Mataram is a city of education centers in the Province of West Nusa Tenggara (NTB). There are a number of students from various surrounding areas, including from Bima until there is an area that is popularly known to be inhabited by the Bima People namely Lawata, Mataram City, NTB. The purpose of this study was to determine the process of communication between Bima Students in Lawata Area, Mataram City, NTB. This research is a qualitative descriptive study with an intrinsic case study approach. The sampling technique uses purposive sampling. Data collection is done through: in-depth interviews and observations. Data analysis was carried out by Interactive Model of Analysis. The results of the study showed that the interpersonal communication process was carried out on fellow classmates both on college friends from Bima and from Lombok Island. The use of different languages in everyday areas causes different processes of interpersonal communication between Bima students and students from Lombok Island. To work around this, interpersonal communication is done in Indonesian Language (Bahasa Indonesia). On the other hand, the use of Indonesian Language (Bahasa Indonesia) is also an  obstacle to the interpersonal communication process which is a semantic obstacle.
Keywords: Process; interpersonal communication; Bima students, Lawata
DOI:
https://doi.org/10.29303/jcommsci.v2i2.32
Refbacks
There are currently no refbacks.
Copyright of Journal of Media and Communication Science

This work is licensed under a Creative Commons Attribution-NonCommercial 4.0 International License.
JCommsci accredited by :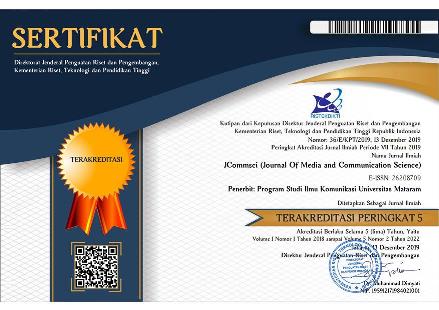 JCommsci Indexed by :