Crisis Management of Transmart Mataram Public Relation in Increasing the Sale Target After Lombok Earthquake Disaster
Abstract
Earthquake is one of the factors that can cause a crisis for a company. One of the companies that experienced a crisis due to the earthquake in Lombok was Mataram Transmart. Lombok earthquake decreased the sales and customer debts. The purpose of this study was to determine crisis management carried out by the Public Relations Transmart Mataram in increasing sales after the earthquake in Lombok, with a research method that is descriptive. The results showed that from some of the activities carried out by the Public Relations and Transmart Mataram management team starting from planning, investigating (fact finding), identifying the symptoms of crisis emergence, coordinating crisis control, and maintaining good relations with internal and external public companies . After doing all aspects of the crisis management it was seen that there was an increase in sales after the earthquake. Previously during the crisis, the company experienced a decrease in sales turnover, after the earthquake sales turnover began to increase to approximately 15%. However, this increase has not been said to be fully increased because it has not reached the sales target as before the crisis in the company.
Keywords: crisis management; public relations, Transmart Mataram, natural disaster
Keywords
crisis management; public relations, Transmart Mataram, natural disaster
References
Kriyantono, Rachmat. 2012. Public Relationss & Crisis Management: Pendekatan Critical Public Realtions, Etnografi Kritis & Kualitatif. Kencana. Jakarta
Nafarin, M. 2009. Penganggaran perusahaan. Salemba Empat. Jakarta
Nova, Firsan. 2011. Crisis Public Relations. RajaGrafindo. Jakarta
Ruslan, Rosady. 1999. Manajemen Humas dan Manajemen Komunikasi (Konsepsi dan Aplikasi). PT Raja Grafindo Persada. Jakarta
Saputra & Nasrullah. Public Relationss 2.0: Teori Dan Praktik Public Relationss Di Era Cyber. Gramata Publishing. Depok
Sugiyono. 2007. Metode Penelitian Kuantitatif, Kualitati, dan R&D. Alfabeta Publishing. Bandung
________. 2018. Metode Penelitian Kuantitaif, Kualitatif Dan R&D. Alfabeta. Bandung
Supardi. 2006. Metodologi Penelitian. Yayasan Cerdas Press. Mataram
Suparmo, Ludwig. 2018. Manajemen Krisis, Isu, Dan Risiko Dalam Komunikasi. Campustaka. Jakarta
Latifa Zahra. 2012. Manajemen Krisis Gembira Loka Zoo (Studi Deskriptif Kualitatif Peran Hubungan Masyarakat dalam Mengembalikan Citra Perusahaan Pasca Erupsi Merapi 2010. Fakultas Ilmu Sosial Dan Humaniora Universitas Islam Negeri Sunan Kalijaga Yogyakarta.
Sumber Wawancara
CSC (Customer Service Coordinator), Wawancara 12 Februari 2019
RPM Security Transmart Mataram, Wawancara 1 Mei 2019
Sales Manager Transliving Transhardware Transmart Mataram, Wawancara 27 April 2019
Grocery Departement Head, Wawancara 27 April 2019
PIC (Person In Charge) Transmart Mataram, 27 Maret 2019
DOI:
https://doi.org/10.29303/jcommsci.v1i3.38
Refbacks
There are currently no refbacks.
Copyright of Journal of Media and Communication Science

This work is licensed under a Creative Commons Attribution-NonCommercial 4.0 International License.
JCommsci accredited by :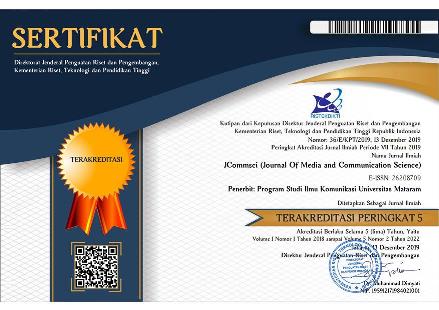 JCommsci Indexed by :