Communication Strategy of North Lombok District Disaster Board During Earthquake 2018
Abstract
Effective communication is essential in disaster management. Effectif communication is formed when accurate communication strategies is implemented. During the emergency phase of North Lombok District  (KLU) natural disaster earthquake strick effectif communication was not carried out asthe theory of communication strategies. This was due to the KLU District Disaster Management board (BPBD) not yet ready withwritten and web and internet based communication strategies. Information crisis during the emergency period was  conventionally handledtherefore data and informasion collection and analisis less accuratecaulead to slow distribution of data and information to publick and users. As a result casualties rescue and managementslow and inadequate, unequal,unfair and overlaping. Therefore for the up comming future BPBD KLUhas to have good written web and internet based communication strategies.
Keywords: Communication, strategy, disaster, Lombok.
Keywords
Communication, strategy, disaster, Lombok
References
Adler, R. B. and Rodman, G. R. (2009). Understanding human communication (10th ed.). New York: Oxford University Press.
Anies. (2018). Manajemen Bencana: Solusi untuk Mencegah dan Mengelola Bencana. Yogyakarta: Gosyen Publishing.
ASIS International Disaster Management Council. (2003). ASIS Disaster Preparation Guide. USA: ASIS International.
Barrantes, S. A., Rodrigues. M., Perez, R. (2009). Information Management And Communication In Emergencies And Disasters: Manual For Disaster Response Teams. Pan America Health Organisation.
Devito, Joseph A. (2011). Komunikasi Antar Manusia. Pamulang-Tangerang Selatan: Karisma Publishing Group.
Effendy, Onong Uchjana. 1984. Ilmu, teori, dan filsafat komunikasi. Bandung : PT. Remaja Rosdakarya.
Haddow, G. D. dan Kim S. Haddow. (2008). Disaster Communication in A Changing Media World. Oxford: Butterworth-Heinemann.
Jansen, J. , R. J. Renes, and T. J. G. M. Lam. (2010). Evaluation Of Two Communication Strategies To Improve Udder Health Management. American Dairy Science Association. Hal. 604–612.
Khambali, I. 2017. Manajemen Penanggulangan Bencana. Yogyakarta: Penerbit Andi.
Kriyantono, R. (2018). Public Relations, Issue & Crisis Management (Pendekatan Critical Public Relations, Etnografi Kritis & Kualitatif). Jakarta: Kencana PrenadaMedia Group.
Light Foundation & Volunteer Center National Network. (2002). Preventing a Disaster within the Disaster: The Effective Use and Management of Unaffiliated Volunteers. Washington, DC: Points of Lights, UPS dan FEMA.
Lensa NTB. 2018. Akibat Gempa Bupati Lombok Utara Ikut Jadi Pengungsi. lensantb.com/2018/08/akibat-gempa-bupati-lombok-utara-ikut-jadi-pengungsi/. [Diakses pada 29 Maret 2019].
Littlejohn, Stephen W. (2005). Theories of Human Communication. Belmont, California: Thomson Wadsworth Publishing Company.
Mulyana, Deddy. (2007). Ilmu Komunikasi Suatu Pengantar. Bandung : PT. Remaja Rosdakarya.
Nova, Firsan. 2017. Crisis Public Relations: Strategi PR Menghadapi Krisis, Mengelola Isu, Membangun Citra dan Reputasi Perusahaan. Depok: RajaGrafindo Persada.
Publishers, San Francisco, CA.
Pertiwi, W. K. (2018). "5 Aplikasi Ini Bisa Beri Informasi saat Gempa Terjadi", https://tekno. kompas.com/read/2018/08/06/17070087/5-aplikasi-ini-bisa-beri-informasi-saat-gempa-rjadi?page=all Kompas.com - 06/05/2018, 17:07 WIB
RMOL Jateng. Istana: Banyak Hoax Di Tengah Gempa Lombok. www/rmoljateng.com /read /2018/08/25/10504/Istana:-Banyak-Hoax-Di-Tengah-Gempa-Lombok-. [28 Maret 2019].
Ruben, Brent D., Stewart, Lea P. (2013). Komunikasi Dan PerilakuManusia (EdisiKelima).Jakarta :Rajawali Pers.
Sugerman, D.E., Keir, J.M, Dee D.L, Lipman H, Waterman S.H, Ginsberg M, Fishbein D.B. Emergency health risk communication during the 2007 San Diego wildfires: comprehension, compliance, and recall. J Health Commun.2012;7(6):698–712.
Seeger, M. W. (2006). Best Practices in Crisis Communication: An Expert Panel Process. Journal of Applied Communication Research. Vol. 34, No. 3, August 2006, pp. 232_244
Sirait, E. R. E. (2016). Implementasi Teknologi Big Data Di Lembaga Pemerintahan Indonesia. Jurnal Penelitian Pos dan Informatika Puslitbang Sumber Daya, Perangkat, dan Penyelenggaraan Pos dan Informatika Jalan Medan Merdeka Barat No. 9, Lantai 4 Gedung Belakang, Kementerian Komunikasi dan Informatika.
Weick, K. E. and Sutcliffe, K. M. (2007), Managing the Unexpected (2nd edition), Jossey-Bass
DOI:
https://doi.org/10.29303/jcommsci.v1i3.49
Refbacks
There are currently no refbacks.
Copyright of Journal of Media and Communication Science

This work is licensed under a Creative Commons Attribution-NonCommercial 4.0 International License.
JCommsci accredited by :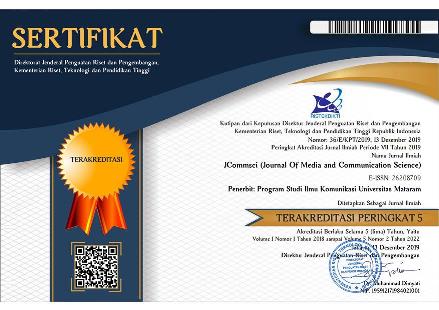 JCommsci Indexed by :