Corporate Social Responsibility Program of BRI Peduli for Increasing the Image of PT Bank Rakyat Indonesia
Abstract
Many companies that have been established are no longer just business-oriented efforts that are focused on maximizing economic benefits but have also carried out activities aimed at corporate social concern for the external environment in the social and environmental aspects, known as Corporate Social Responsibility. (CSR), which is a manifestation of the company's commitment to developing company profits indirectly and sustainably by paying attention to social responsibility and environmental sustainability in which the company is located. PT Bank Rakyat Indonesia (BRI) is one of the State-Owned Enterprises (SOEs) that runs CSR through the BRI Care program, where SOEs and Limited Liability Companies are required to carry out CSR programs established by the Government, especially in Article 74 of Law No. RI. 40 of 2007. This study aims to find out through the application of BRI Peduli CSR programs ranging from preparation, implementation to evaluation of BRI Peduli CSR programs capable of raising the image of PT BRI itself by using a qualitative descriptive research method where researchers use structured interviews with the Head of Section, Supervisor, and Executive Staff of PT BRI CSR, also non-participant observations to Al-Falah Mosque, located in Bendungan Hilir, zone 1 BRI Tower Central Jakarta as primary data, and through BRI Peduli's official website as secondary research data. The results show that BRI Peduli's CSR program has created a positive image for the community towards PT BRI through the implementation of the CSR program, from planning, implementation, to evaluations that have fulfilled the triple bottom line concept of CSR, people, planet and profit based on three CSR principles, namely sustainability, accountability, and transparency. Because of the vast scope of the environment that must be reached by PT BRI in carrying out BRI Peduli's CSR programs, running this CSR program in a sustainable and in-depth manner for implementation and facing obstacles in the implementation of BRI Cares CSR..
Keywords: CSR; BRI Peduli; company image
Keywords
CSR; BRI Peduli; company image
References
Firdaus, F. (2016). Implementasi Program Corporate Social Responsibility (CSR) Used Motorcycle Department dalam Meningkatkan Citra PT Summit Oto Finance Jurnal Visi Komunikasi Universitas Mercu Buana Vol.15 No.2
Hadi, Nor. (2011). Corporate Social Responsibility. Yogyakarta: Graha Ilmu. W.S. Lyon, Guide to Activation Analysis, 2nd ed., Van Nostrand Co. Inc., New York (1960) 33.
Rahmayanti, D. R. (2014, Juni). Jurnal Ilmu Komunikasi Universitas Sebelas Maret Vol.11 No.1. Implementasi Corporate Social Responsibility dalam Membangun Reputasi Perusahaan. D.L. Davids, Recovery Effects in Binary Aluminum Alloys, Ph.D. Thesis, Harvard University (1998).
Situmeang, Ilona Vicenovie Oisina. (2016). Corporate Social Responsibility: Dipandang Dari Perspektif Komunikasi Organisasi. Yogyakarta: Ekuilibria.
Nova, Firsan. (2011). Crisis Public Relations. Jakarta: PT Raja Grafindo Persada.
Soemirat, S., & Ardianto, E. (2004). Dasar-Dasar Public Relations. Bandung: Remaja Rosdakarya.
Bungin, B. (2011). Penelitian Kualitatif. Jakarta: Kencana Predana Media Group
DOI:
https://doi.org/10.29303/jcommsci.v1i3.51
Refbacks
There are currently no refbacks.
Copyright of Journal of Media and Communication Science

This work is licensed under a Creative Commons Attribution-NonCommercial 4.0 International License.
JCommsci accredited by :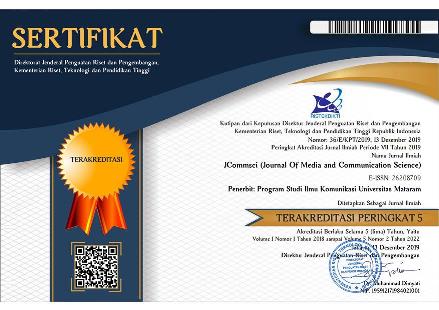 JCommsci Indexed by :