Effectiveness of Instagram Sponsored as Advertising/Promotion Media (Study of Tiket.com Advertisement with EPIC Model Method)
Abstract
The use of advertisements using social media is now increasingly widespread, one of which is Instagram social media. Instagram currently brings up the Instagram Sponsored feature as an alternative advertising medium. Tiket.com is one type of e-ticketing business in Indonesia and is actively promoting its advertising, one of which is by using Instagram Sponsored. This Instagram Sponsored feature is still fairly new as an advertising medium on Instagram media, so researchers want to measure the effectiveness of Instagram Sponsored feature advertising media through Tiket.com ads using the Instagram Sponsored feature with the A.C Nielsen EPIC method. This study uses a quantitative description methodology with the population of @tiketcom Instagram followers using four EPIC Model approaches namely Empathy, Persuasion, Impact, and Communication. The results of this study showed that the average EPIC rate score was 2.9, so it was declared effective.
Keywords: Effectiveness, EPIC, Instagram Sponsored, Tiket.com
Keywords
Effectiveness, EPIC, Instagram Sponsored, Tiket.com
References
Abdullah, M. (2016). Manajemen Komunikasi Periklanan. Banjarmasin. Aswaja Pressindo
Indrawan, R. dan R. Poppy Yaniawati. (2014). Metodologi Penelitian Kuantitatif, Kualitatif dan Campuran untuk Manajemen, Pembangunan, dan Pendidikan. Bandung: PT Refika Aditama
Kasali, R. (1995). Manajemen Periklanan Konsep dan Aplikasinya. Jakarta: PT Pustaka Utama Grafiti
Kotler, P. (2003). Manajemen Pemasaran.Jakarta: Gramedia
Olson, J. C. and Peter J. Paul. (1999). Perilaku Konsumen dan Strategi Pemasaran. Jakarta: Salemba Empat
Rangkuti, F. (2009). Mengukur Efektivitas Program Promosi dan Analisi Kasus Menggunakan SPSS. Jakarta: PT Gramedia Pustaka Utama.
Sugiyono. (2010). Metode Penelitian Kuantitaif, Kualitatif, dan R&D. Bandung: Alfabeta
DOI:
https://doi.org/10.29303/jcommsci.v2i2.53
Refbacks
There are currently no refbacks.
Copyright of Journal of Media and Communication Science

This work is licensed under a Creative Commons Attribution-NonCommercial 4.0 International License.
JCommsci accredited by :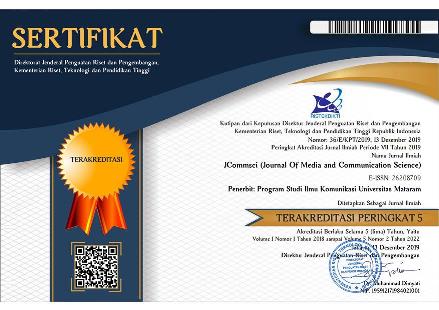 JCommsci Indexed by :