Marketing Communication of Golden Palace Hotel in Increasing the Number of Visitors after Lombok Earthquake
Abstract
Lombok earthquake in August 2018 affected physical damage and casualties. The earthquake also has an impact on the hotel industry as one of the regional economic sectors. Golden Palace Hotel is a hotel that is affected by physical damage resulting in a decrease in occupancy of hotel rooms so that the Golden Palace hotel wants to increase the number of visitors by making marketing strategies. This study aims to determine the marketing communication strategy of the Golden Palace Hotel in increasing the number of visitors after the Lombok earthquake. This study used descriptive qualitative method. Data collection techniques are done by interview, observation and documentation study. Data analysis used in this research is data reduction, data presentation, and conclusion drawing. The data validity test is done by triangulating sources and member checking. The results showed that the Golden Palace Hotel did the determination of communicators, making messages, determining the targets, choosing the media used and determining the desired goals based on the elements of communication and marketing communication services strategy.

Keywords: Marketing Communications; Golden Palace Hotel; Lombok earthquake
References
Cangara, H. (2013). Perencanan dan Strategi Komunikasi. Jakarta: PT. Raja Grafindo Persada
Hasan. (2013). Marketing dan Kasus-Kasus Pilihan. Yogyakarta: CAPS
Kotler, and Amstrong. (2012). Prinsip-Prinsip Pemasaran. Edisi 13. Jilid 1. Jakarta: Erlangga
Effendy, O.U. (2003). Ilmu Teori dan Filsafat Komunikasi. Bandung: Citra Aditya Bakti
Priansa, D. (2017). Komunikasi Pemasaran Terpadu. Jakarta: Pustaka Setia
Prisgunanto, I. (2006). Komunikasi Pemasaran (Strategi dan Taktik dilengkapi analisis SOSTAC dan STOP-SIT). Jakarta: Ghalia Indonesia
Berita Satu. (2018). BMKG Catat 459 Kali Gempa Bumi Guncang NTB. 30 Juli 2018. sp.beritasatu.com/home/bmkg/catat/459-kali-gempa-bumi-guncang-ntb/125151. [03 Desember 2018]
Radarlombok.id. (2019). Selama 2018, Kunjungan Wisatawan ke NTB Terjun Bebas. https://radarlombok.co.id/selama-2018-kunjungan-wisatawan-ke-ntb-terjun-bebas.html [ 22 Januari 2019]
DOI:
https://doi.org/10.29303/jcommsci.v2i3.54
Refbacks
There are currently no refbacks.
Copyright of Journal of Media and Communication Science

This work is licensed under a Creative Commons Attribution-NonCommercial 4.0 International License.
JCommsci accredited by :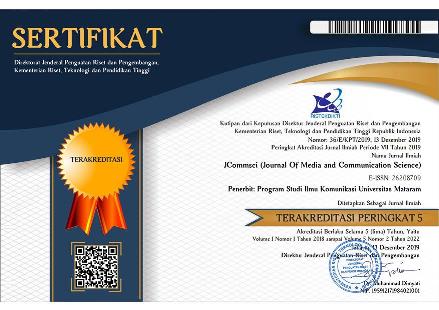 JCommsci Indexed by :