Komunikasi Keprotokolan Dalam Pelaksanaan Upacara Wisuda di Universitas Padjadjaran
Keywords:
Protocol Communication, Graduation Ceremony, Universitas Padjadjaran
Abstract
Each agency requires a protocol in every event or activity, especially because it involves respect and appreciation for each individual actor or entity involved in an activity. Padjadjaran University as a State University Legal Entity is full of activities and / or activities that are official in nature and are attended by high-ranking government officials and other officials / leaders, both leaders of fellow universities within and / or abroad and non-tertiary institutions which of course has a relationship with Universitas Padjadjaran in an official event. The protocol team routinely carries out preparatory / planning activities and coordinates with various relevant directorates at each event, but obstacles still occur outside the plan. This study was conducted to determine the lack of a protocoler's role in carrying out graduation ceremonies that are carried out routinely as evaluation material. The method used is descriptive statistics using an instrument in the form of a questionnaire. The instrument design is divided into 4 groups of questions related to protocols, namely Protocol Attitude, Layout, Honor, and Ceremony. The survey results from the questionnaire were analyzed using descriptive and comparative analysis resulting in a number of shortcomings in the Ceremonial Procedure that could be seen from the results of respondents' responses which tended to be negative. Therefore, efforts must be made to increase some of the activities in the implementation of the Ceremony at the Graduation Ceremony of the University of Padjadjaran.  Keywords: Protocol Communication, Graduation Ceremony, Universitas Padjadjaran
References
Aedi, N. (2010). Instrumen Penelitian dan Pengumpulan Data. Bandung: Universitas Pendidikan Indonesia.
Fajri, C. (2017). Peran Humas Dalam Meningkatkan Loyalitas Stakeholders Universitas Ahmad Dahlan. Informasi: Kajian iImu Komunikasi, 47(1), 97–108.
Farouk, U. (2010). Peran Public Relations Di Perguruan Tinggi Negeri (PTN) Dalam Era Badan Hukum Pendidikan Tinggi. Dialogue: Jurnal Ilmu Administrasi Dan Kebijakan Publik, 6(1), 68-77–77.
Hafizah, E. (2019). Implementasi Tata Laksana Pedoman Master Of Ceremony (MC) Bagi Siswa-Siswi Sekolah Dasar (Studi Kasus pada Siswa-Siswi Sekolah Dasar Alam Mahira Kota Bengkulu). Al-Hikmah, 13(1), 77. https://doi.org/10.24260/al-hikmah.v13i1.1336
Hamidi. (2005). Metode Penelitian Kualitatif. Malang: UMM Press.
Kasmirus, W. (2013). Peran Kehumasan dalam Membangun Citra Pemerintah. Jurnal Administrasi Reform, 1(1), 190–208.
Mardalis. (1999). Metode Penelitian Suatu Pendekatan Proposal. Jakarta: Bumi Aksara.
Maryati. (2010). Statistika Ekonomi dan Bisnis (Edisi Revi). Yigyakarta: UPP AMPYKPN.
Musyarrofah, M. (2018). Peran Humas Dalam Pengembangan Pendidikan Tinggi. Idaarah: Jurnal Manajemen Pendidikan, 2(1), 11–23. https://doi.org/10.24252/idaarah.v2i1.5122
Pathuloh, A. (2017). Pengaruh Pelaksanaan Kebijakan Protokoler Kepala Daerah terhadap Koordinasi Keprotokolan dalam Mewujudkan Efektivitas Tugas-tugas Protokoler Kepala Daerah. Jurnal Publik, 11(1), 33–43.
Peraturan Pemerintah (PP) No. 62 Tahun 1990. (1990). Ketentuan Keprotokolan Mengenai Tata Tempat, Tata Upacara Dan Tata Penghormatan.
Peraturan Rektor Nomor 55 Tahun 2016. (2016). Protokoler Unpad.
Rahmat, A., & Bakti, I. (2016). Kinerja Hubungan Masyarakat (Humas) Pemerintah daerah Kabupaten dan Kota di Jawa Barat. Jurnal Kajian Komunikasi, 4(2), 133–141.
Ratnasari, E., Rahmat, A., & Prastowo, F. A. A. (2018). Peran Humas Perguruan Tinggi Negeri Badan Hukum dalam Implementasi Kebijakan Keterbukaan Informasi. PRofesi Humas : Jurnal Ilmiah Ilmu Hubungan Masyarakat, 3(1), 21. https://doi.org/10.24198/prh.v3i1.14034
Rini, K. S., Rusmiwari, S., & Widodo, H. P. (2017). Peran humas dalam meningkatkan citra Universitas Tribhuwana Tunggadewi. JISIP: Ilmu Sosial Dan Ilmu Politik, 6(1), 34–37. Retrieved from https://publikasi.unitri.ac.id/index.php/fisip/article/view/369/302
Sedarmayanti, & Hidayat, S. (2011). Metodologi Penelitian. Bandung: Mandar Maju.
Siswanto, Wismanto, A., Ulumuddin, A., & Indrariani, E. A. (2013). Pengembangan Pelatihan Kepewaraan Bagi Warga Kelurahan Jatisari Kecamatan Ngaliyan Dalam Mendukung Percepatan Kota Layak Anak Di Kota Semarang Anak Di Kota Semarang. E-Dimas: Jurnal Pengabdian Kepada Masyarakat, 4(2), 45–55.
Sugiyono. (2013). Metode Penelitian Kuantitatif, Kualitatif dan R&D. Bandung: Alfabeta.
Suyuti, A. (2002). Teknik Cepat Menjadi Orator, Da'i, dan MC Profesional. Pekalongan: Cinta Ilmu.
Undang-undang (UU) No. 9 Tahun 2010. (2010). Keprotokolan.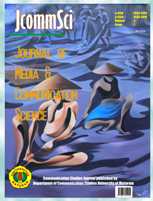 Downloads
License
This work is licensed under Creative Commos Attribution - Non Commercial 4.0 
International Licensed