Crisis Management Public Relations of PT KAI Commuter Jabodetabek on Handling KRL Cross Accident September 2015
Abstract
This study titled "Crisis Management Public Relations of PT KAI Commuter Jabodetabek on Handling KRL Cross Accident September 2015" the problem of the research is the management crisis, crisis management strategy efforts to crisis, the role when crisis that is enforceable by the division of Public Relations PT KAI Commuter Jabodetabek (KCJ) in resolving the crisis accident of 2 KRL at Juanda Station. This research uses the Gonzales-Herero and Pratt crises method management who analogous a crisis like the stages of life.
This research used qualitative case study research accompanied by descriptive exposure. The data was obtained through direct observation, interviews and literature studies, while the informants in this research was Assistant Communication Manager PT KCJ and Public Relations Manager of the Central Bank Republic of Indonesia West Java Province as the source triangulation.
The results of this study shows that crisis management conducted by PT KCJ has been carried out starting from the victims evacuation, evacuation of the damaged wagon train, the recovery location of the accident, to the process of health settlement costs for the victims of accident.
Keywords: Crisis Management, KRL Cross Accident, PT KAI Commuter Jabodetabek, Public Relations, Gonzales-Herero and Pratt Method 
Keywords
Crisis Management, KRL Cross Accident, PT KAI Commuter Jabodetabek, Public Relations, Gonzales-Herero and Pratt Method
References
Afdal, Ahmad Fuad. (2004). Tips & Trik Public Relations. Jakarta: PT Grasindo.
Ardianto, Elvinaro dan Bambang Q-Anees. (2007). Filsafat Ilmu Komunikasi. Bandung: Simbiosa Rekatama Media.
Chatra, Emeraldy, Rulli Nasrullah. (2008). Public Relations Strategi: Kehumasan dalam Menghadapi Krisis. Jakarta: Maximalis.
Halim. (2013). Analisis Tren Kecelakaan Pada Sektor Transportasi Di Indonesia (Moda Transportasi : Kereta Api). Bandung: Universitas Kristen Maranatha. Diakses dari http://repository.maranatha.edu/3666/1/Analisis%20tren%20kecelakaan%20pada%20sektor%20transportasi%20di%20Indonesia.pdf pada tanggal pada 5 Maret 2016, 14:13 W.I.B
Hartiana, Theresia Intan Putri. (2014). CITRA PERUSAHAAN DALAM BERITA KRISIS PERUSAHAAN Konstruksi Citra Perusahaan Daerah Taman Satwa (PDTS) Kebun Binatang Surabaya dalam Teks Berita Kematian Michael di Harian Jawa Pos dan Sindo. Jurnal Kajian Komunikasi, Volume 2, No. 2. Bandung: Universitas Padjajaran. Diakses dari http://jurnal.unpad.ac.id/jkk/article/view/7379/3382 pada 03 Juni 2016.
Julianery, Be. (2015). Transportasi Murah Masyarakat Urban. Redaksi Print Kompas. Diakses dari http://print.kompas.com/baca/2015/07/07/Transportasi-Murah-Masyarakat -Urban pada 8 Maret 2016, 13:56.
Kasali, Rhenald. (2003). Manajemen Public Relations: Konsep dan Aplikasinya di Indonesia. Jakarta: Pustaka Utama Grafiti.
Kriyantono, Rachmat. (2015). Public Relations, Issue & Crisis Management: Pendekatan Critical Public Relations, Etnografi Kritis & Kualitatif. Jakarta: Kencana.
Luhukay. S, Marsefio. (2008). Penerapan Manajemen Krisis Di Indonesia: Memotret Krisis Dalam Kaca Mata Public Relations. Jurnal Ilmu Komunikasi, Fakultas Ilmu Komunikasi, Univeristas Kristen Petra. 18-28. Ejurnal Universitas Kristen Petra.
Nova, Firsan. (2011). Crisis Public Relations. Jakarta: PT RajaGrafindo Persada.
Prayudi. (1998), Strategi Komunikasi Organisasi Dalam Menghadapi Krisis. Fisip UPN "Veteran" Yogyakarta.
Soemirat, Soleh, Elvinaro Ardianto. (2002). Dasar-Dasar Public Relations. Bandung: PT Remaja Rosdakarya.
Sugiyono. (2009). Metode Penelitian Kuantitatif Kualitatif dan R&D. Bandung: Alfabeta.
Wasesa, Silih Agung, Jim Macnamara (2005). Strategi Public Relations. Jakarta: Gramedia Pustaka Utama.
DOI:
https://doi.org/10.29303/jcommsci.v3i1.61
Refbacks
There are currently no refbacks.
Copyright of Journal of Media and Communication Science

This work is licensed under a Creative Commons Attribution-NonCommercial 4.0 International License.
JCommsci accredited by :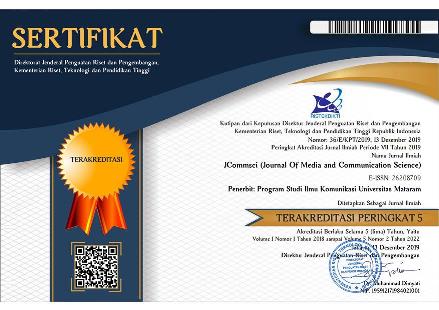 JCommsci Indexed by :