INSTAGRAM SOCIAL MEDIA CONTENT MANAGEMENT IN FAMILY PLANNING COORDINATING BOARD WEST NUSA TENGGARA PROVINCE AS PUBLIC RELATIONS STRATEGIES TO CREATE BRAND AWARENESS
Abstract
Family Planning Coordinating Board (FPCB) West Nusa Teggara (WNT) Province is a family
planning and controlling institution. This institution has used Instagram, a social media platform as its
channel to publish its programs and events since 2017. Nowadays, this institution tries to build its own
brand as an educative intuition for family planning and controlling through Family Planning (KB) and
Planning Generation (GenRe) program. The study sets to describe the WNT FPCB brand awareness
achievement through management social media content activities. Moreover, descriptive qualitative, a
case study method has been employed. Purposive sampling Technique has been assigned to select the
correspondence. Observation, deep interview and document research were utilized to collect the data.
The validity and reliability test were done by triangulation and member check. The result showed that
according to Metrics Framework Public Relations Activity, brand awareness through media social content
management activity have not been met by WNT FPCB.
Key Word: Management, Social Media Content, Brand Awareness
Keywords
Management, Social Media Content, Brand Awareness
References
Ambadar, Jackie; Miranty Abidin dan Yanty Isa. 2007. Mengelola Merek. Jakarta : Yayasan
Bina Karsa Mandiri.
Cahyaningtyas, June dan Sri Issundari 2016. Place Branding dalam Hubungan
Internasional.Yogyakarta : Deepublish.
Durianto, Darmadi; Sugiato; dan Tony Sitinjak.2004. Strategi Penaklukan Pasar Melalui Riset
Ekuitas dan Perilaku Merek.Jakarta : Gramedia Pustaka Utama.
Fitrah, Muh dan Luthfiyah.2017. Metodologi Penelitian; Penelitian Kualitatif, Tindakan Kelas,
dan Studi Kasus. Jawa Barat : CV. Jejak.
Kriyantono, Rachmat. 2016. Public Relations Writing Teknik Produksi Media Public Relations
dan Publisitas Korporat. Jakarta : Prenadamedia Group.
Landsverk, Kjell H. 2014. The Instagram Handbook. United Kingdom : PrimeHead Limited.
Murphy, Herya A. dan Herbert W. Hildebrant. 1991. Effective Business Communication. New
York : Mc. Graw-Hill
Suprawoto. 2018. Government Public Relations Perkembangan dan Praktik di Indonesia. Jakarta
: Prenadamedia Group.
Suwatno. 2018. Pengantar Public Relations Kontempoper. Bandung : PT. Remaja Rosda Karya
AMEC. 2011. Valid Metrics for PR Measurement Putting The Principles Into Action. AMEC
US Agency Reasearch Leader Group
DOI:
https://doi.org/10.29303/jcommsci.v3i1.62
Refbacks
There are currently no refbacks.
Copyright of Journal of Media and Communication Science

This work is licensed under a Creative Commons Attribution-NonCommercial 4.0 International License.
JCommsci accredited by :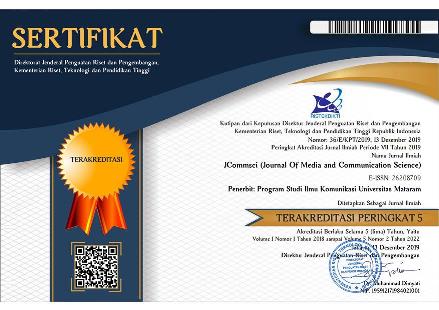 JCommsci Indexed by :