Narrative of Covids as Conspiracy on Youtube
Keywords:
Narratives, Conspiracy, Covid, YouTube
Abstract
Covid 19 pandemic which spread in Indonesia is not just science issue that shows a competition of scientist in developing theories and concepts to solve this problems. More important than science study, this issue also comes on the social study with some of naratives about conspiracy in media portals, one of them is YouTube. Using literature review method this research analyze what kind of narratives built by YouTube accounts that upload information about "Covid Conspiracy". Analyze obtained from five YouTube accounts shows that Covid's conspiracy narratives are built differently. From this paper, hopefully can describe audience are not just a consumers of media messages, but also media producers and how audience critical think and creativity create an information content about Covid conspirations on YouTube.
References
Allington dkk. (2020). Health-protective behaviour, social media usage and conspiracy belief during the COVID-19 public health emergency. Psychological Medicine, 1–7. doi: https://doi.org/10.1017/S003329172000224X
Allocca, Kevin. (2018). Videocracy: How YouTube is Changing the World with Double Rainbows, Singing Foxes, and Other Curious Trends. Macmillan: Bloomsbury.
Bora K, Barman B, & Borah P. (2018). Are Internet Videos Useful Sources of Informastion During Global Public Health? A Case Study of YouTube Videos During the Zika Virus Pandemic. Pathogens and Global Health, 112 (6), 320-328.
Brennen, J. Scott, Felix Simon, Philip N. Howard, & Rasmus Kleis Nielsen. (2020, April 7). Types, sources, and claims of COVID-19 misinfromation. Routers Institute for the Study of Journalism, Oxford. Accessed from: https://reutersinstitute.politics.ox.ac.uk/types-sources-and-claims-covid-19-misinformation.
Gita, Liony & Cosmas Gatot H. (2019). Komodifikasi Sensualitas Dalam Tayangan Kimi Hime di Media Sosial Youtube. Jurnal SEMIOTIKA, Vol. 13 No. 1. doi: https://core.ac.uk/download/pdf/268047673.pdf
IRA. (2020, Maret 3). KPI Minta TV dan Radio Sampaikan Informasi Virus Corona Secara Bertanggung Jawab. Diakses dari http://www.kpi.go.id/index.php/id/umum/38-dalam-negeri/35611-kpi-minta-tv-dan-radio-sampaikan-informasi-virus-corona-secara-bertanggung-jawab.
Masrul, dkk. (2020). Pandemi Covid-19: Persoalan dan Refleksi di Indonesia. Medan: Yayasan Kita Menulis
Mishra, Sirakanta. (2020). The Post-Pandemic World Order. New York: IndraStra Papers
Ofcom. (2020, April 20). London Real: Covid-19. Ofcom Broadcast and On Demand Bulletin. Accessed from: https://www.ofcom.org.uk/__data/assets/pdf_file/ 0020/194402/sanction-decision-estv.pdf.
Paolillo, Jhon C. (2018). The Flat Earth Phenomenon on YouTube. First Monday, Vol 23 No. 13. doi: http://dx.doi.org/10.5210/fm.v23i12.8251
Timdetik.com. (2020, April 26). Kapan Sebenarnya Corona Pertama Kali Masuk RI?. Detik.com. Diakses dari https://news.detik.com/berita/d-4991485/kapan-sebenarnya-corona-pertama-kali-masuk-ri.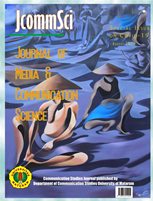 Downloads