ANALISIS KOMUNIKASI INTERPERSONAL PETUGAS LAPANGAN KELUARGA BERENCANA (PLKB) DALAM KEIKUTSERTAAN AKSEPTOR KB MEDIS OPERATIF PRIA (MOP)
Abstract
The low participation of man/husbands in Family Planning and Reproductive Health is basically caused by men's lack of understanding on the importance of ways to play a role in Family Planning and Reproductive Health, as well as the lack of knowledge and information on KB types of Men especially Vasectomy or Male Operative Medical (MOP) . This is reflected in the habit of the people who still tend to surrender the responsibility to the wife. With this situation the Government through PLKB socialize Family Planning program to the community in every region. Interpersonal Communication Method is considered the most effective to influence and invite the community to follow KB MOP.
               The purpose of this research is to know how the interpersonal communication done by Family Planning Extension Officer (PLKB) in the participation of KB MOP acceptors in Kumbi Hamlet of Pakuan Village, Narmada District, West Lombok regency. This research uses qualitative approach with descriptive method. Data collection is done by in-depth interview technique. In-depth interviews were conducted on one PLKB man, five people using KB MOP and five people who did not use KB MOP.
               The conclusions and results of this study indicate that the Interpersonal Communication conducted by PLKB in the participation of KB MOP acceptors in Kumbi Hamlet of Pakuan Village, Narmada District is by making home visits, using understandable language, using brochure or leaflet media, and approaching community leaders local.
Keywords: Interpersonal Communication, PLKB, KB MOP
References
BKKBN. 2006. Pedoman Teknis Komunikasi Interpersonal/Konseling bagi Penyuluh KB, Jakarta.
BKKBN. 2010. Direktorat Peningkatan Partisipasi Pria. Peningkatan Partisipasi Pria.
Effendy, Onong Uchjana. 2015. Ilmu Komunikasi (teori dan Praktek). PT. Remaja Rosdakarya, Bandung.
Fathurrahman, Lalu. 2016. Pengantar Metodologi Penelitian Ilmu Sosial/Ilmu Komunikasi. Fakultas Ilmu Sosial dan ilmu Politik Universitas 45 Mataram.
Kriyantono, Rachmat. 2008. Teknis Praktis Riset Komunikasi. Kencana Prenada Media Group, Jakarta.
Muhammad, Arni. 2009. Komunikasi Organisasi.Bima Aksara, Jakarta.
Sugiyono. 2008. Metodelogi penelitian Kuantitatif, Kualitatif, dan R&D. Alfabeta, Bandung.
DOI:
https://doi.org/10.29303/jcommsci.v1i1.7
Refbacks
There are currently no refbacks.
Copyright of Journal of Media and Communication Science

This work is licensed under a Creative Commons Attribution-NonCommercial 4.0 International License.
JCommsci accredited by :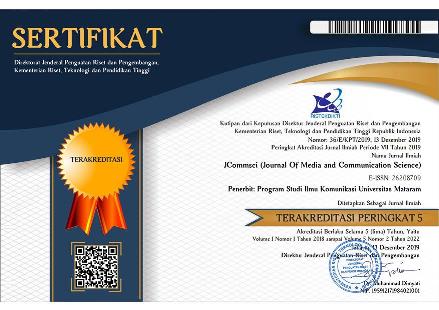 JCommsci Indexed by :