CORPORATE SOCIAL RESPONSIBILITY PERUSAHAAN PT INDONESIA POWER UJP PLTU JERANJANG DALAM MENGURANGI KEMISKINAN (Studi kasus pada masyarakat Desa Taman Ayu Kecamatan Gerung Kabupaten Lombok Barat)
Abstract
Creating a positive image in society, companies can conduct CSR programs. Poverty categories are understood in various ways including: Picture of material shortage, Overview of social needs, Descriptions of lack of income and adequate wealth. The meaning of "adequate" here varies widely across the sections of the Problem Formulation How Corporate Social Responsibility (CSR) PR Program PT Indonesia Power UJP PLTU JeranjangIn Reducing Poverty (A Case Study In Taman Ayu Village Village Gerung Subdistrict West Lombok)? " this research is to know Corporate Social Responsibility Program (CSR) PR PT. Indonesia Power UJP PLTU Jeranjang In Reducing Poverty (Case Study Of Taman Ayu Village Subdistrict Gerung West Lombok) In this research using descriptive qualitative research method called naturalistic method because the research is done on natural condition (natural setting), which means in accordance with facts and data that exist in the field. The results of the research are: Informants who serve as representatives of society and companies provide a lot of information ;, Description of research results indicate that the existence of support CSR implementation by the Company and Benefits Reduce Poverty by the Government of Taman Ayu Village, it is known that between theory and result is very significant. Suggestion given in this research are: PT. Indonesia Power continues to implement CSR Program as an effort to improve corporate image, CSR implementation to be improved, Village government and community continue to support and provide opportunities for sustainable CSR programs.
Keywords : CSR and Poverty
References
Hadi, Nur. (2011). Corporate Social Responsibility edisi Pertama. Yogyakarta : Graha Ilmu.
Sugiyono, 2016, Metode Penelitian Kuantitatif, Kualitatif dan R&D, Bandung : Alfabeta.
Sugiyono, 2015, Metode Penelitian Kuantitatif, Kualitatif dan R&D, Bandung : Alfabeta.
Yusuf Wibisono, 2007, Membedah Konsep & Aplikasi CSR (Corporate Social Responsibility), PT Gramedia, Jakarta.
DOI:
https://doi.org/10.29303/jcommsci.v1i1.8
Refbacks
There are currently no refbacks.
Copyright of Journal of Media and Communication Science

This work is licensed under a Creative Commons Attribution-NonCommercial 4.0 International License.
JCommsci accredited by :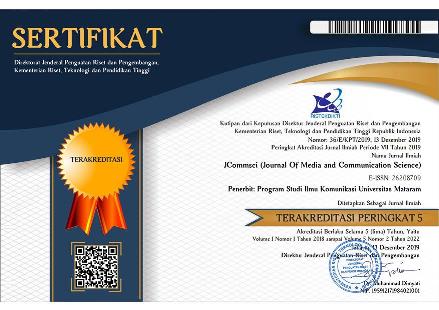 JCommsci Indexed by :